Pulau Pinang (Penang) ~ Georgetown's Past into Present
Francis Light planned the original colonial town spanning out from Fort Cornwallis. The early commercial centre was laid out along Lebuh Light, Beach Street (Lebuh Pantai), Chulia Street and Pitt Street (Jalan Masjid Kapitan Keling). Lebuh Light was reserved for offices homes and public buildings. The State Assembly Buildings (formerly Police Recorder's Courts and Magistrate Courts) , the Immigration Building, City Hall, Town Hall (originally the social venue for Penang's European Community - consisting of a Ballroom with adjoining supper rooms), The Supreme Court and a little further away, the Convent of the Holy Infant Jesus.
Convent Light Street
In 1883, the school expanded their orphanage, with their dormitory on the first floor of the E Wing. It now houses the primary school, the sister's quarters and the secondary school's teacher's staffroom. Pic courtesy of CLS


Also known as the Convent Light Street, Convent of Holy Infant Jesus was started by 3 French Nuns in 1852. Within the confines of its walls is the Francis Light Bungalow built in 1790. The bungalow was later leased out to the East India Company in 1803 for the Government House. The French Nuns took over Government House for their convent later. They then began adding buildings in the grounds, which in time became a complex housing a chapel, cloisters for the Sisters, an orphanage for unwanted babies, a boarding house for students and classrooms for the school. The Convent has been painstakingly restored in recent years with funds raised from the public.
"Ours has been a caring school, long before the idea caught on elsewhere. Our values still hold and pupils are disciplined. It is our greatest hope that they will always live up to the school motto which incidentally is the motto of all Infant Jesus School throughout the world...
Simple In Virtue, Steadfast In Duty"

... Sister Francis de Sales

St. George's Church
This is the oldest Anglican Church in the country dating back to 1818. In the grounds of the church lies a small memorial inscribed, "In Memory of Francis Light, Esquire, Who first established this island as an English Settlement & was many years Governor. Born in the country of Suffolk in England and died October 21 st 1794."
For those visiting George Town and wish to attend services at St. George's .. information available at https://www.facebook.com/stgeorgeschurch.penang
Penang State Museum

A short distance away from St George's Church is the Penang State Museum. This was the former premise of the Penang Free School, which was built in 1896 and extended in 1906.

Opening Times : 9.00am - 5.00pm (Sat - Thu)
Closed: Friday and Public Holiday

Admission Fee : RM1.00
For more on Penang State Museum,http://www.penangmuseum.gov.my

Cathedral of the Assumption
Not long after Francis Light arrived on Penang Island in 1786, he sent for a community of Eurasians from a parish in Kuala Kedah to be settled in Penang. The community was made up of descendants of European settlers who had intermarried with the Burmese and Siamese. Due to political prosecution, they had moved away from Phuket and resettled in Kedah. (Perhaps, Light's empathy for the plight and identity of these descendants may be due to him being associated with a lady of Thai-Portuguese descent?).
The Church of Assumption was so named because the first group of Roman Catholics landed in Penang on the eve of the Feast of Assumption. In 1955, the church status was raised to the status of a Cathedral of the diocese of Penang.
E&O Hotel (Eastern & Oriental Hotel)
A sightseeing trip on trishaws around Georgetown organised by Eastern and Oriental Express Train for their passengers. Not to be mistaken for E&O (Eastern & Oriental Hotel)
E&O Hotel was the first of subsequent hotels in the region managed by the Sarkies Brothers who also operated the Raffles in Singapore, the Strand in Rangoon ~ Myanmar and the Crag Hotel on Penang Hill. All except the Crag Hotel are still functioning today. E&O Hotel began operations in 1884 and by the roaring 20's had gained worldwide recognition for its opulence and perhaps more so, the generosity of Arshak Sarkies himself. He was an indulgent man whose idea of running the hotel for pleasure rather than profit. The generous man would waive friends' hotel bills and even provided passage home for stranded planters and miners whose businesses had failed. Soon E&O became known as 'Eat & Owe'. Not surprisingly, he was at the brink of bankruptcy on his death bed. Even then, his funeral in the 1930's was reported to be one of the largest in decades.

For more on the Rise and Fall of the Sarkies Brothers, http://www.famoushotels.org
Once patronised by colonial administrators, planters and the wealthy local elite; among its more famous guests were Sir Noel Coward, Douglas Fairbanks, Mary Pickford, Rudyard Kipling, Somerset Maugham and Hermann Hesse. Having gone through a decade of obscurity and uncertainty, today, E & O Hotel has yet again been restored to it's glory of when it proclaimed itself " The Premier Hotel East of Suez"..

For a view of E&O Hotel rooms, please go here
Cheong Fatt Tze Mansion
14, Leith Street , Georgetown Penang. Conducted Tours at 11.00am , 2.00pm and 3.30pm everyday. Other times of the day is closed to public.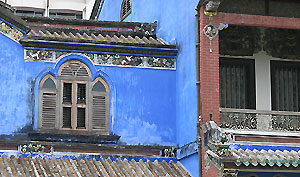 The then 16 year old Cheong Fatt Tze emigrated to Malaya in 1856 to work at British tin mines along with thousands of young men in search of a better life. He did more than just that. He eventually worked his way into society, amassing a fortune along the way by trading in tea, pepper, coffee and tobacco with the British Empire. During the 1800s, Chinese factions ruled territiories and divided Georgetown into sections ruled by secret societies. These Chinese groups were organised according to dialect and lineage, and were formed to 'look after' their fellow villagers or clan. Eventually, their leaders were appointed by the British as dignitaries and provided with positions of responsibility in the hope of parrying any discontentment amongst the various groups and also with the government.
Cheong Fatt Tze's reputation as a shrewd businessman and a financial wizard surpassed himself. He later became Consult Genaral for China, had the honourable position ~ Mandarin of the Highest Order, was a director of China's railway and also director of first modern bank. Cheong Fatt Tze was even honoured with the title of "Rockefeller of the East" by the New York Times and dubbed as "China's last Mandarin and first capitalist".
Although he had other houses around Asia particularly in lands where he had business ventures and personal interests eg. Indonesia and China, Cheong Fatt Tze preferred this mansion in Penang. He poured all his passion into this property and hired geomancers and feng shui masters to design a house in which that wealth flowed in was retained within the confines of the geomancy boundaries.
The Cheong Fatt Tze mansion is open to public everyday at stipulated times. Educational tours are conducted at these times. Other times, the mansion is closed to the public. Tickets can be purchased at the gates of the mansion. This tour is well worth the money as visitors can see the amount of time and effort spent on feng shui. An incredible piece of feng shui mastery.
Apart from the architecture, Cheong Fatt Tze mansion is also dedicated to Cheong himself. The love of his life ~ his seventh wife had the privilege of living at the Mansion. A little room filled with Nyonya antiques and old photographs gives a peep into the lives of the genteel Chinese businessmen then.
The mansion has been used on occasions for film locations. One of the more famous one, 'Indochine' stars Catherine Deneuve.
When Cheong Fatt Tze passed away in 1916, flags were ordered to be flown at half-mast by the Dutch and the British in their colonies, to honour this man. So respected a man was he and so much wealth he had amassed in his lifetime, unfortunately the wealth and fortune did not quite benefit the later generations.
Eventually, the mansion was deserted by the family. Squaters moved in during the 70's and stayed until one day a group of Heritage preservationists acquired the Mansion to ensure that it would be maintained & conserved for posterity. It took them almost 3 years to negotiate with the squaters a deadline to leave the premise. When they finally did, then restoration work began. Prior to completion of works at the mansion, Hotel Continental located just behind the mansion began foundation works for its 22-storey extension. The use of hammer-driven concrete piles immediately caused the mansion's walls to crack and its foundation began to sink.
The owners applied for a court injunction and was granted. The case was taken to court and a precedent was set as the presiding judge deemed that 'conservation was an act of development'. In the fight for conservation in Georgetown, this victory was a first step towards awareness. The local council has now banned the use of hammer-driven piling systems within the historic core of Georgetown.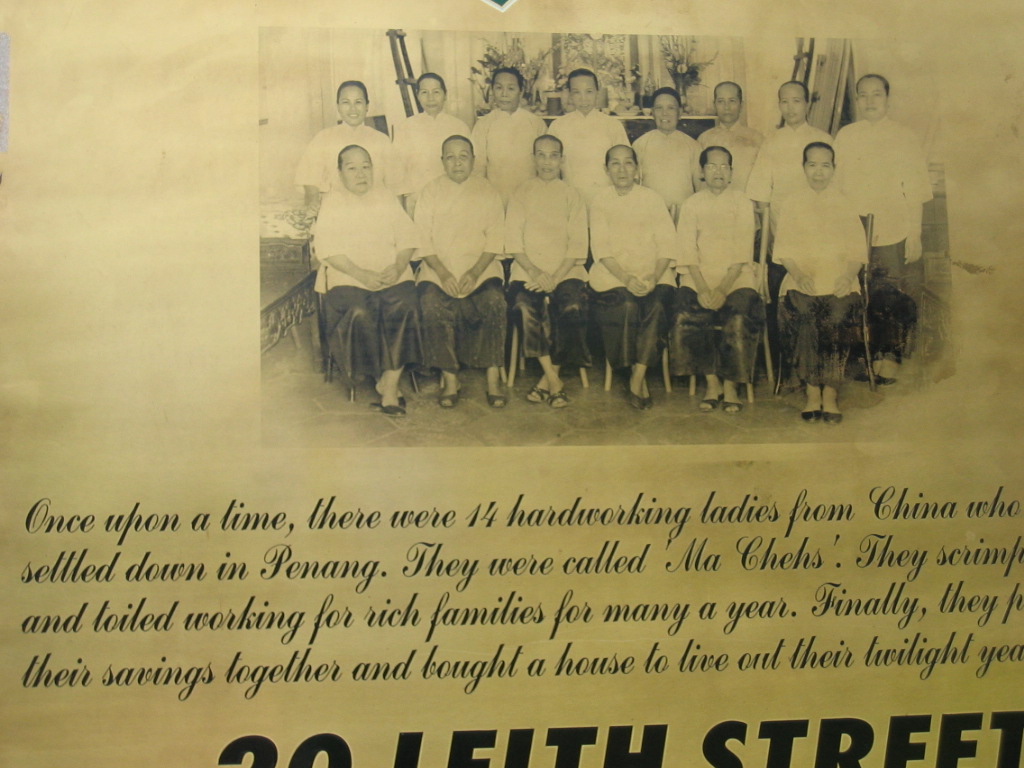 ma chehs. photo courtesy of cheong fatt tze mansion
The mansion used to also consist of the row of terrace houses across the street. This area was where the kitchen, storage rooms and servants' quarters used to be. Food was prepared in the kitchens and servants would then shunt up and down the elevated plank walkway connecting the main house with the servants quarters in haste, as they rush to deliver the piping hot dishes to their mistresses. The servants were always dresses in white shirts and black pants and were called 'Ma Cheh's' or sometimes 'Blacka &Whites'. These ladies would leave theis homes in China and travel far to work for rich Chinese families. They work tirelessly,dedicating their entire time to looking after their mistresses and children. With the money saved, they looked forward to returning to their homeland to live an easier life of retirement with their families. Today 20, Leigh Street has been converted into pubs and cafes. Great place to wind down after time spent at the mansion.
Cheong Fatt Tze mansion also has 16 individually designed rooms for guests to stay over of they so wish to just spend some time absorbing the energy and history of this famed house.
Daily Tour times:
11am, 2pm and 3.30pm for a duration of 45 minutes.
RM17 per adult (including GST)
RM8.50 per child under 12 years (including GST)
Tours are in English but also available in Mandarin, Japanese and other languages if pre-arranged separately and for a minimum fee of RM255 (equivalent of 15 persons). Special tours may also be organised for private groups and organizations.
for more on Cheong Fatt Tze Mansion's bed and breakfast facilities,click here